WHO WE ARE?
Founded in 2004, Suntex Composite Industrial Co.,Ltd is a young and dynamic company specialized in manufacturing of high temperature industrial textiles. Depended on continue innovation and meticulous working of our employees team, Suntex is growing to become the leading supplier of fiberglass, silica and ceramic fiber based high temperature textiles and insulation. Nowadays, Suntex has been the pioneer and the leader in treated and finished industrial textiles where thermal protection and high performance solutions are required.
OUR MISSION
At Suntex, customers' requirement and satisfaction put first. We endeavor to provide customer with prompt service and timely delivery. To our customers, we are a reliable supplier and a creative partner. This is, to us, the best prize of all.
OUR COMMITMENT
Suntex management and staff have over 20 years of cumulative experience in industrial textiles. With state-of-the-art equipment, Suntex is committed to offer the customers with high quality and cost effective products. In the company, quality being our first priority, all manufacturing procedures are certified ISO 9001.
OFFICE ADDRESS
1212 Fortune International Building, 717
Wuluo Road, Wuhan, China 430072
Tel: +86 27 87869042
Fax: +86 27 87164892
Email: info@isuntex.com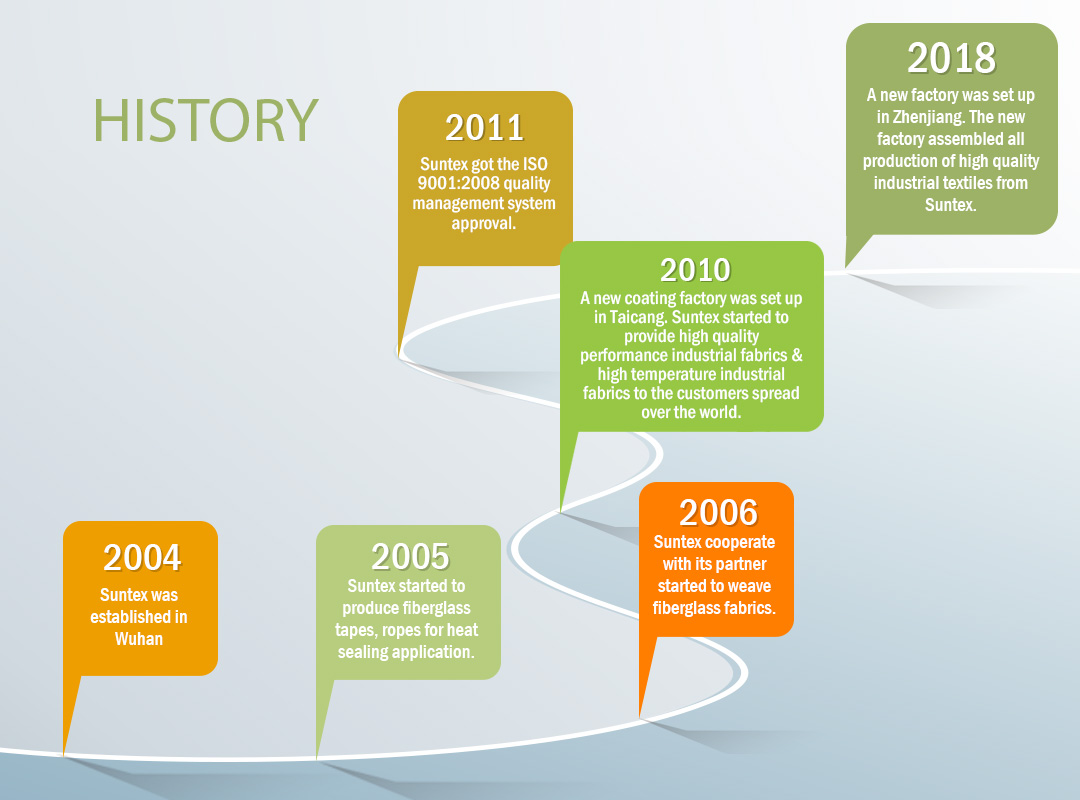 In the more than 14 years, SUNTEX is active in the field of products for Heat resistance & Fire protection. We have gained a leading position in this market all throughout China and good reputation from the clients all over the world.
Our advantages:
- Professional
For 15 years we have been a pioneer and leading producer of high temperature fabrics for thermal management and fire protection.
- Innovation
All staffs in Suntex's R & D department strive to continuously make innovation and experiments that create value for customers
- Quality assurance
As an ISO9001:2008 certified company, Suntex offers the customers with quality assurance for all of its products. Most products from Suntex have been getting certificates which approved by the authority 3rd part inspection institutions/companies
- Trusted Globally
Customers in over 40 countries trust Suntex's products of high temperature textiles, systems to protect their crews and equipment.